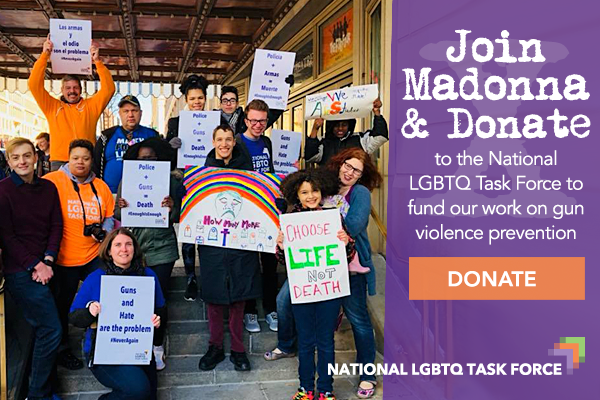 By
Rea Carey, Executive Director, National LGBTQ Task Force
Gun violence is a deadly epidemic in our communities and our country. LGBTQ people no longer feel safe entering our schools, attending Pride parades, or even hitting the dance floor on a summer night. Gun violence is robbing us of the health and safety we all deserve.

Today, the National LGBTQ Task Force announced a new partnership with Madonna's Ray of Light Foundation to grow our violence prevention work, especially as it affects transgender women of color.

Join Madonna and donate to support our gun violence prevention work today!

We see Madonna's dedication to a Revolution of Love as synchronistic with our #BeYou campaign. The Task Force works to create the spaces and conditions for LGBTQ people to live free, to be you! In order for us to move towards a day when we can be all of ourselves, all of the time, we must eradicate violence, including gun violence.

LGBTQ people, particularly Black transgender women, have a higher risk of violent death, which is related to anti-LGBTQ stigma and discrimination. The Pulse shooting in 2016 focused attention on violent bigotry against LGBTQ people. At the same time, there is so much more to the epidemic than mass murders. There are murders by the police, there are murders related to domestic violence, and the murders of sex workers. Violence against trans women of color is devastating our community.

Join Madonna and donate to support our gun violence prevention work today! All donations will be matched dollar for dollar through the end of the month.

We will continue to organize on the ground, convene our greater community, and push for policies that end gun violence.

Thank you for your support!