On November 1, the Trump Administration announced that it would no longer enforce existing U.S. Department of Health and Human Services (HHS) regulations that prohibit discrimination in HHS-funded programs based on sexual orientation, gender identity, sex, and religion. The administration also announced that HHS-funded programs would no longer be required to recognize marriages of same-sex couples. In addition, it put forward a new rule that would allow most programs receiving HHS grants to discriminate based on sex, sexual orientation, gender identity, and religion. This proposed rule and the administration's notice that they are suspending enforcement of existing nondiscrimination provisions will have widespread and devastating consequences.

This means federally funded programs and agencies could, for example, deny services to foster youth, refuse admission to shelters, deny children homes with prospective foster or adoptive families, shut out families seeking emergency services, and more. Those who receive government funding wouldn't even have to justify their discrimination: the Trump administration would simply allow them to do it, no questions asked.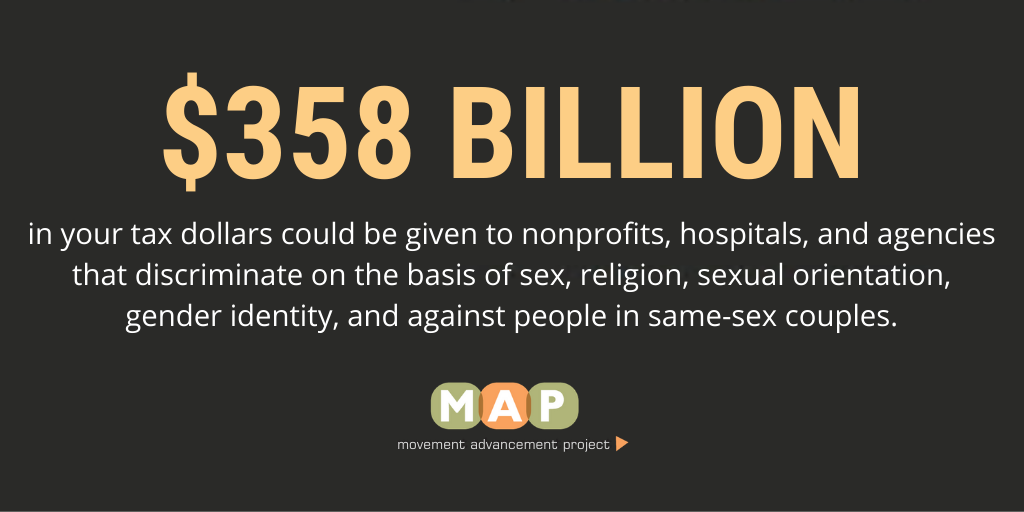 HHS awards more than $527 billion of taxpayer dollars in grants and contracts each year. This dangerous rule would impact the ability of millions of people to access and receive services from billions of dollars of programs ranging from adoption and foster care services for children, family preservation services, STI and HIV testing and prevention programs, Head Start programs, supportive housing services, reproductive health care, and much more. For example:

• Head Start grant recipients and other federally funded child care facilities could refuse to serve children with married same-sex parents or provide services to a transgender youth

• Meals on Wheels and other community meal programs designed to support older adults could refuse to deliver food to older Americans who are Jewish, Muslim, or LGBTQ

• Adoption and foster care agencies that receive federal funding could keep children in government care rather than allow them to be adopted by qualified same-sex couples or families with different religious beliefs from the agency

Taxpayer dollars should not be used to advance discrimination and harm vulnerable children in foster care, older adults, those at risk for HIV, and more. The rule is the latest in a series of Trump administration efforts to undermine civil rights protections and harm people served by government-funded programs.

MAP, in partnership with other organizations like the ACLU, the Center for American Progress, and others, will continue to provide more information about what this proposed rule – and the notice of nonenforcement – means for the programs that millions of people count on.